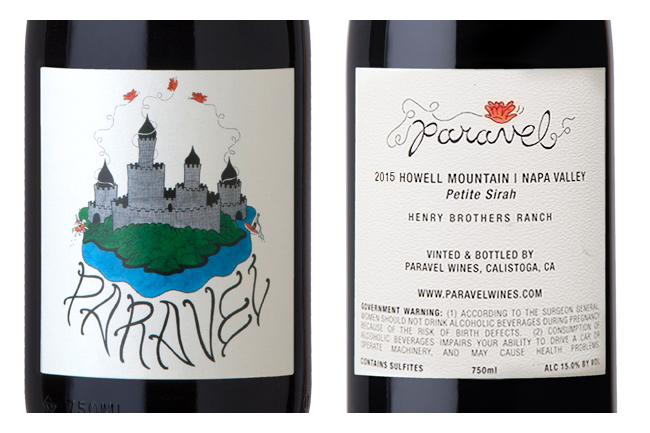 2015 Howell Mountain Henry Brothers Ranch Petite Sirah
Cracked black pepper, vanilla cream and cinnamon stick over blackberry cobbler. An ultra-smooth entry glides into a hedonistic mid-palate. The succulent texture, with hints of clove, nutmeg and Earl Grey tea, expands as ripe black fruit ripples across the palate. Only 47 cases of this wine were produced, and will sell out fast!
6 bottle limit per household, please.
100% Howell Mountain Petite Sirah, Henry Brothers Ranch
2015 Howell Mountain Henry Brothers Ranch Cabernet Sauvignon
Seductive black cherry, crushed cocoa nib and a smattering of brown sugar and sweet black licorice. Thick and silky on the entry, with a melted milk chocolate and blackberry nectar mid-palate that intensifies to a long, elegant, and structured finish of fig preserve, cherry bark, vanilla bean and a hint of molasses. You've been warned!

100% Howell Mountain Cabernet Sauvignon, Henry Brothers Ranch
2014 Howell Mountain Henry Brothers Ranch Petite Sirah
Chocolate covered black raspberry with a twist of blood orange, resinous fresh cracked black pepper and a hint of cherry bark. A silky smooth entry segues seamlessly into a dense and expansive mid-palate. The finish of dark chocolate, graham cracker, toasted pistachio and cardamom highlight this extremely balanced, structured beauty. Drink now to 2030.

100% Howell Mountain Petite Sirah, Henry Brothers Ranch
2014 Howell Mountain Henry Brothers Ranch Cabernet Sauvignon
Black cherry, juicy ripe plum and cocoa nib entice with layers of spice and intense blackberry seed minerality. A powerful, rich entry evolves into increasing structure and a full mid-palate to the crushed velvet finish of dark berry, fresh Madagascar vanilla bean and dark roast espresso.

100% Howell Mountain Cabernet Sauvignon, Henry Brothers Ranch
2016 Howell Mountain Rosé of Cabernet Sauvignon
Luscious pink grapefruit and candied strawberry introduce this refreshing, multi-layered and full-bodied Rosé. This pink beauty is sure to compliment smoked veggies, grilled meats and warm Summer evenings. Front porch swing not included, but recommended.
100% Howell Mountain Henry Brothers Ranch Cabernet Sauvignon, intentionally pressed while pink.

Available to ship on April 1st on a first come, first served basis.


Pre-ordering welcome. 6 Bottle Limit per household.
2013 Howell Mountain Henry Brothers Ranch Petite Sirah
A nose full and then some! Classic Howell Mountain fruit greets with cracked black pepper and intense blackberry on the nose. This wine is seamless from entry to finish with fresh vanilla bean, dusted cinnamon & raspberry jam to guide through the rich, full mid-palate. Creamy caramel & blackberry swoop back in to add to the lengthy, complex finish.
100% Howell Mountain Petite Sirah, Henry Brothers Ranch
2013 Howell Mountain Henry Brothers Ranch Cabernet Sauvignon
Ripe, dark black cherry and sweet fresh tobacco with dusty powdered dark chocolate on the rich, velvet entry. Intense but tame tannins step up as the mid-palate expands to caress the towering structure of this Howell Mountain gem. You'll want a few of these in your cellar, friends.
95% Cabernet Sauvignon + 5% Petite Sirah = 100% Howell Mountain fruit, Henry Brothers Ranch